Rota Manager has been designed to ensure the smooth running and increased profitability of your business. Our features allow you to design, manage and coordinate accurate staff rotas quickly and efficiently.
Design your Rota
Axis Date
Specify a start date for each rota. For example, Monday or Sunday.
Valid Dates
Set the period of time during which a rota is valid.
Password Authentication
Protect access to 'Administration Mode' and 'Edit Mode'
---
Add your Staff
Employee Contracted Time
Record employee contracted hours; this is particularly successful for part-time staff. Exceeded contracted hours are flagged with a warning.
Fairness Checker
Instantly access employee statistics, time sheets and periods of leave to quickly and easily assess whether a member of staff is doing an unfair share of unpopular shifts, duties or bank holidays.
Employee Requests
Quickly and easily check whether a holiday request can be granted and/or accommodate an employee's work preferences.

---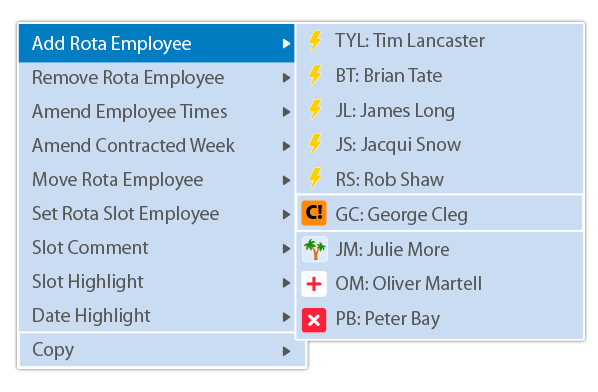 ---
Manage Working Patterns
Highlight Gaps
Identify areas and time periods where staff have not been allocated.
Time Clashes
Avoid clashes in time, shifts and locations. For example, Rota Manager will provide a warning if a member of staff has been allocated to work in two locations at one time.
Rota Statistics and Reports
View how many hours employees are active and non-active.
---
View Rotas
Duplicate Rotas
Copy and paste details or an entire rota, saving time on replication.
Filters
Apply filters to view staff in different departments.
Audit Trail
View a chronological list of changes made to a rota with a record of who made them.