Outpatient Client Management is effective through a series of integrated Spectrum features. The main Appointments system provides flexible scheduling, with a referral facility for recording and contacting referral surgeons and practises.
Appointment History and Attendance Check reduce revenue leakage and improve customer satisfaction, with quick links to VIPER cases contributing to outstanding clinical care. Workflow Manager simultaneously provides complete resource control alongside the management of inpatient clients, kennels, laboratory procedures and more.
Appointments
Spectrum's Appointments system is built for speed and ease-of-use. Quick access can be gained through the function keys, the shortcut icon toolbar or through the client/ animal records. All information can be filtered to suit the preference of the user, making Spectrum ideal for fast-paced, client-facing environments.
Appointment slots can be organised according to room, surgeon, service/clinic, or a combination of all three.
Bookings can be made from any surgery for any one of its branch surgeries with quick links to conditions, appointments and existing VIPER cases.
Client account balances are displayed when finalising appointments, prompting staff to request payment before further services are scheduled.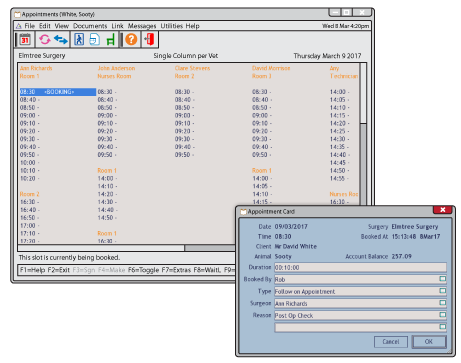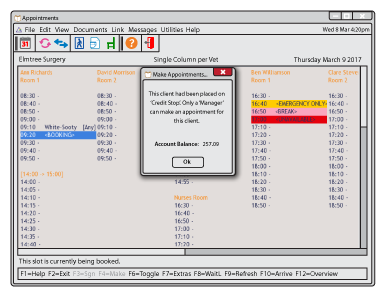 Reminders can be automated to pop-up when making appointments, providing a good opportunity to query upcoming or overdue procedures.
The appointment card contains a surgeon preference feature, indicated via a pop-up message on the appointments screen. This feature is designed for clients who prefer to see the same surgeon at every appointment.
Appointment slots can be blocked for overbooked or emergency situations, with an indicator appearing on a separate waiting list page. Reception staff can print structured notes (registration documents, unlicensed drug consent forms, etc.) directly from the appointments screen, allowing more efficient customer service.
---
Warnings
Several warning features are built into the appointments system, to ensure your practice operates profitably.
Client accounts that have been put 'on hold' or 'on stop' will alert the user before they book a new appointment. The settings can be adjusted to limit access for more junior staff, in order to avoid any problems or confusion. Similarly, a warning appears for cash only customers, to prevent any additional errors.
When appointments are complete, settings can be configured to display prompts and notes that encourage staff to book follow-up appointments.
The appointments overview window shows a live, colour-coded table. All daily activity is outlined, with linked appointments highlighted for quick identification.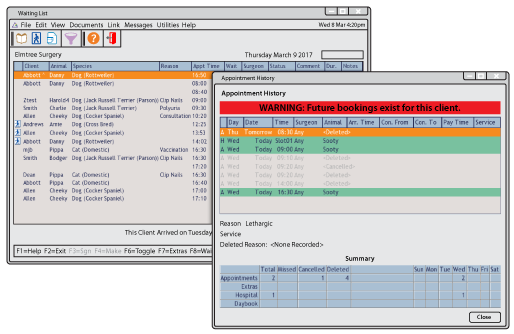 ---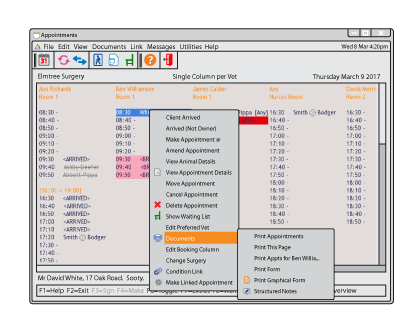 Appointment History
An appointment history window will appear if a member of staff tries to schedule an appointment where existing bookings occur. The window will outline the client's full appointment history, showing all impending procedures and preventing duplicate appointments.
This part of the system records and analyses client appointment data, with relevant warnings, reminders and lists of previous inpatient and outpatient visits.
A summary shows the number of missed, cancelled and deleted appointments that occur on a daily basis. When appointments are cancelled, a prompt box will request a reason for cancellation. Once the reason has been outlined, it is logged and stored.
Spectrum generates a range of inpatient and outpatient reports from stored data, for practice evaluation and improvement.
---
Flexibility
Surgeon working hours are set in a restricted configurations module, with unlimited templates available.
Appointment templates can be created and referenced by surgeon, room or clinical service and are easily copied or amended.
Once these templates have been set up, Spectrum provides further flexibility by allowing changes to be made (by staff allocated this privilege) on a daily/clinic basis. For example, consulting surgeons and surgeries can be changed, and appointment-booking restrictions (emergency only, break etc.) applied.
Pre-booked appointment slots can be restricted to specific periods of the day, to allow additional availability.
Unscheduled, extra appointments can be created via the 'extra appointments' link or can be added to the waiting list, through an animal's records. This maintains the correct order of pre-booked appointments whilst allowing extra appointments to slot in, subject to availability.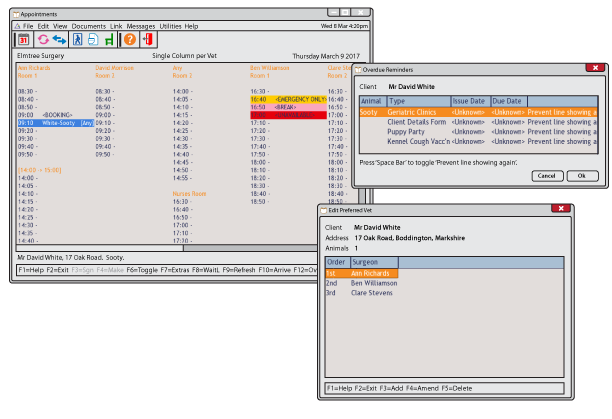 ---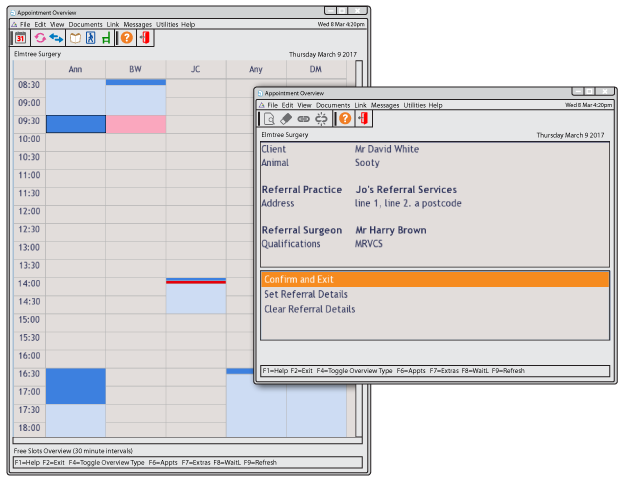 Referral Administration
The Referral Administration module offers the facility to create your own database of referral surgeons and practices. Surgeons can be linked to multiple referral practices and quick links can be programmed to email the referral practice directly. Clients can be linked to multiple referral surgeons or practices and links can be removed, where necessary.
Case data can be emailed or printed, making it straightforward to select the right information for referral partners.