Spectrum is compatible with all modern payment methods, offering a range of customisable options to suit your practice and your clients.
Spectrum enables full or partial payments, deposits, settlement discounts, and regular discount facilities. Discount matrices are an ideal way to keep loyal customers engaged. Discounts can be customised to individual clients or groups of clients and applied to every sale. Alternately, discounts can be applied to a selection of services, products and product groups. Pricing and quantity limits can be applied to avoid misuse.
Bespoke payment schedules can be initiated from the payments module. Payment schedules enable clients with financial difficulties to pay for treatments in instalments. The length of the plan, number of instalments and method of repayment can be managed, with callbacks sent to relevant staff when payment is due or taken.
Progress reports can be generated and settings automated to bring clients 'off stop' when payment plans are complete. Normal invoicing will then resume.
Outstanding sales order reminders ensure staff are aware of activity on client accounts, reducing revenue leakage.
This feature reminds staff to import ordered items into the invoice if the client is willing to pay for them at that point.
Overpaying warnings also guarantee the correct payment is taken.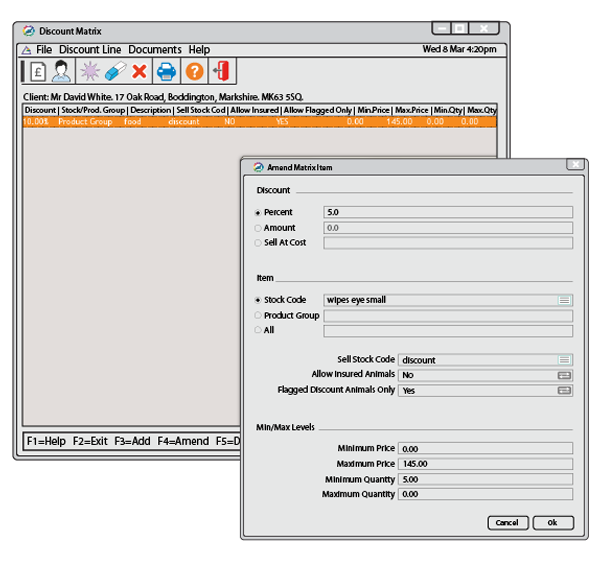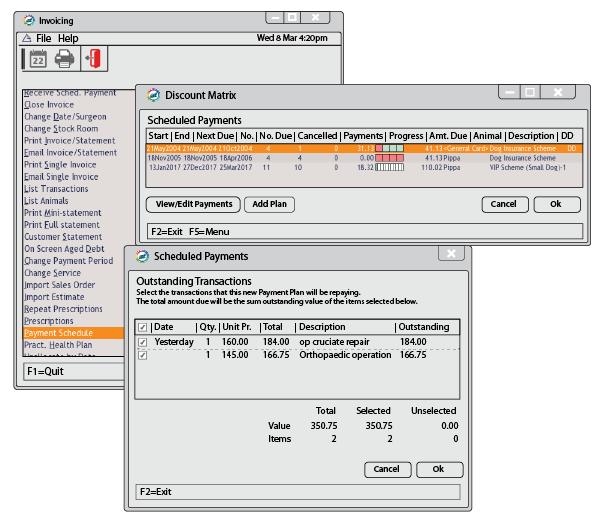 Charging clients incorrectly or slow implementation of practice payment policies can lose you business. Spectrum offers customisable settings that help to streamline payment procedures, including:
Accounting groups (employees, family, customers etc.)
Client grading
Registered charities
Credit limits
Hold/stop/suspension status
Credit letter preferences
Settlement discounts
Invoice rounding
VAT codes
Mailing preferences