Effective stock management is key to a profitable veterinary practice. Spectrum's Stock Control and Ordering modules comprehensively track and manage your practice stock, meaning you don't have to. Developed over 25 years, both modules offer robust features.
With complete Spectrum and VetStation interoperability, Stock Control and Ordering integrate with numerous other features, including Electronic Communications Manager, Practice Health Plans, Reminders and Invoicing. Some of the functionalities are listed below but for a real sense of the achievable gains, please ask for a demo.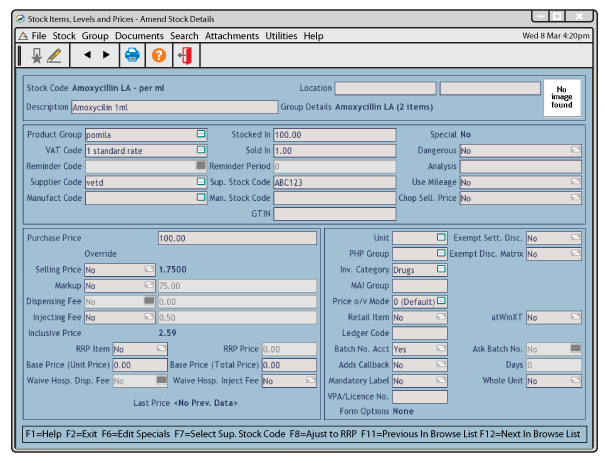 Stock
The Stock Archive facility ensures discontinued items are not invoiced but are retained in transaction histories. Archived items can be removed from archives easily.
Shared Holdings contain multiple versions of the same stock item, allowing items to be sold in a variety of quantities. This is beneficial when invoicing 1ml, 5ml or 10ml quantities from the same 100ml bottle.
The Stock Holdings feature ensures all invoiced items are in stock and available from the listed stock room. If the correct stock holding is not listed on the system, it can be added at the invoicing screen with the correct privilege level.
Special item details can be configured to display custom messages, as well as updating animal records when an item is sold. For example, neutering (changing sexual description), euthanasia (changing to deceased), microchip (prompt to enter number), unlicensed drug consent (change UDC field).
The Charity VAT Exemption option can be applied to items, with selected client records receiving exemption in invoicing.
Prompts can be added to all dispensed items, including automatic dosages, labels, mandatory instructions and batch numbers.
Alternate item lists can be created to provide substitute stock suggestions, in the event that the required stock is unavailable. Automatic product swapping, batch numbers and expiry date controls are possible when invoicing.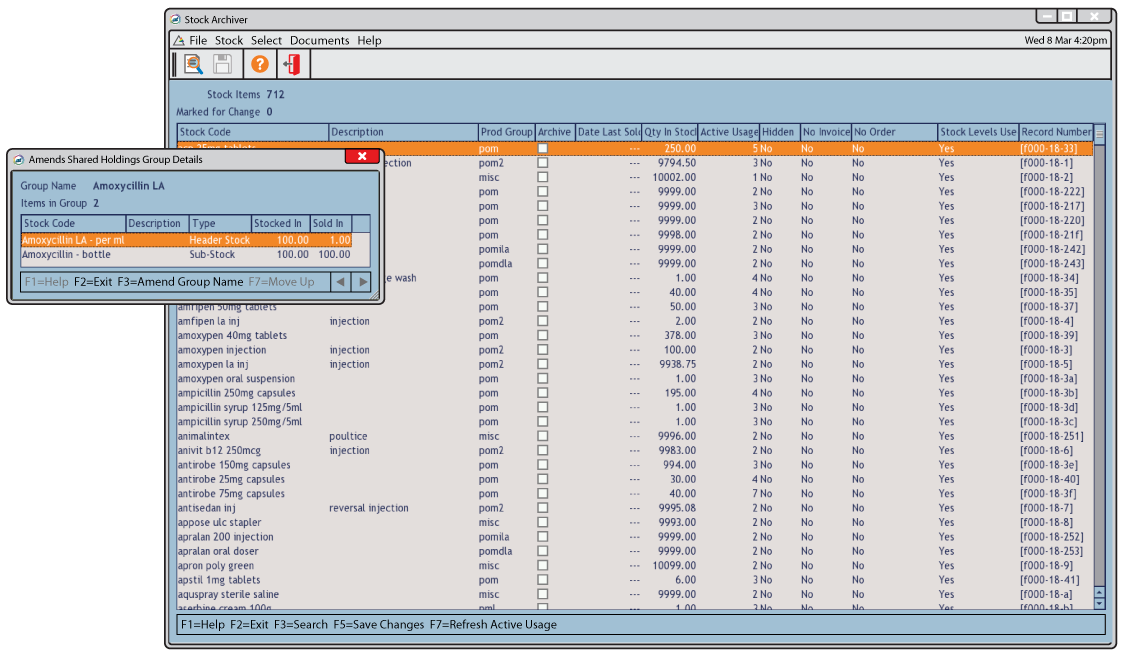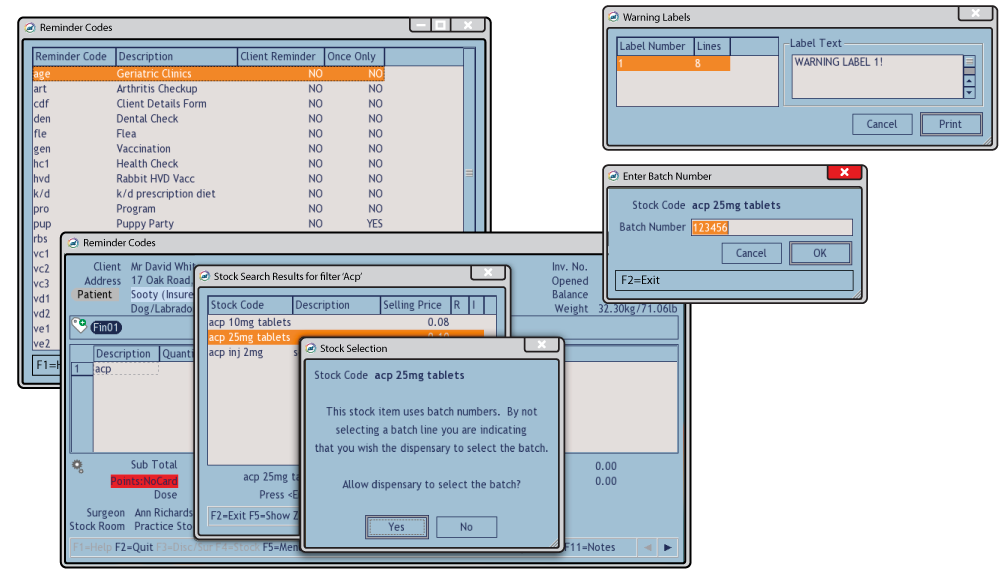 Macro items with multiple constituents allow for invoicing of groups of items, while selection groups facilitate easy searching of similar items.
Multiple stock rooms can be added, with different levels, prices, and items and the option to transfer stock between them. Each room can place their own orders - ideal for multi-site practices.
Product groups allow items to share parameters, including mark-ups, injecting and dispensing fees and reminder codes. Restrictions may be overridden for individual products and product groups can be grouped into header groups, for higher-level analysis.
Reminder codes can be assigned to items, triggering an automatic notification within the relevant client record when an item is sold. This data is logged and accumulated into searchable lists of clients, offering quick, convenient access for future sales.
A reminder notification will appear on a client's records, alerting staff to items previously sold and prompting a new sales opportunity. Further functionality is provided by Electronic Communications Manager, whereby stock-driven reminder messages can be automated to contact clients.
Stock items can be added manually or from supplier catalogues, with linear and two-dimensional barcode support. Items flagged as 'dangerous' will appear in the Dangerous Drugs Transactions Report.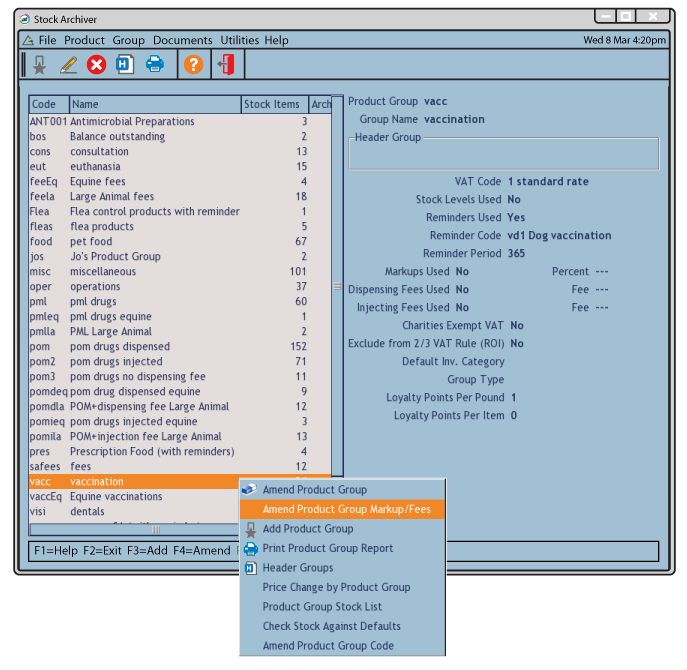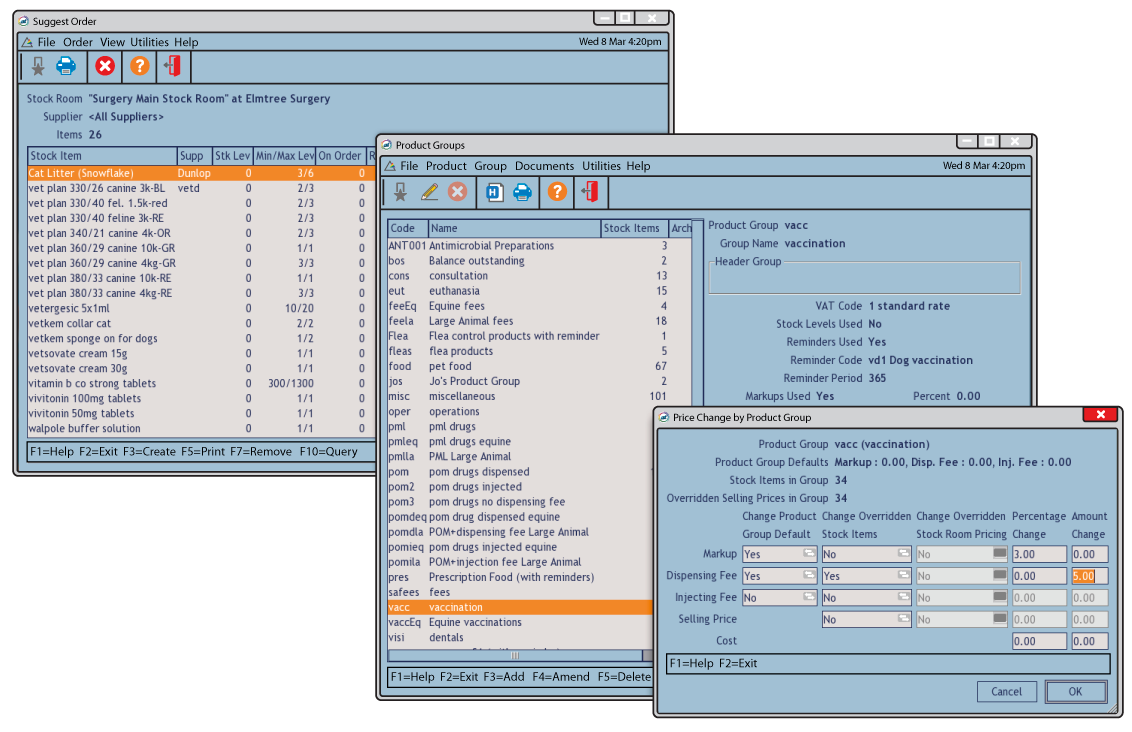 Price management (automatic or manual) and stock discounts can be controlled from the Stock Control module, with DDS cluster technology updating in real time, across all locations. A large range of suppliers support electronic price updating within Spectrum, significantly reducing administration time.
Spectrum helps your practice maintain correct inventory levels by creating stock check sheets for printing.
Spectrum can be set up to generate fully editable order list suggestions for a range of suppliers, safeguarding your purchasing power. Orders can be placed for surgeries, stock room groups, stock rooms, or individual suppliers. Stock orders can also be created manually, according to preferences.
Different stock rooms can have different accounts and settings with the ability to upload suppliers and stock orders from file.
A variety of reports can be generated directly from the Stock Control module:
Stock check sheets
Pricing changes
Sales per manufacturer, supplier, product group or header group
Price change history for a particular group or item
Transaction history for each product
Usage history (by staff member) per item
Stock valuation report
Non-movement report
Life expired report
Stock usage report
Profitability report
Stock room pricing
Stock shortages list
Stock levels
Price lists by product group or purchase price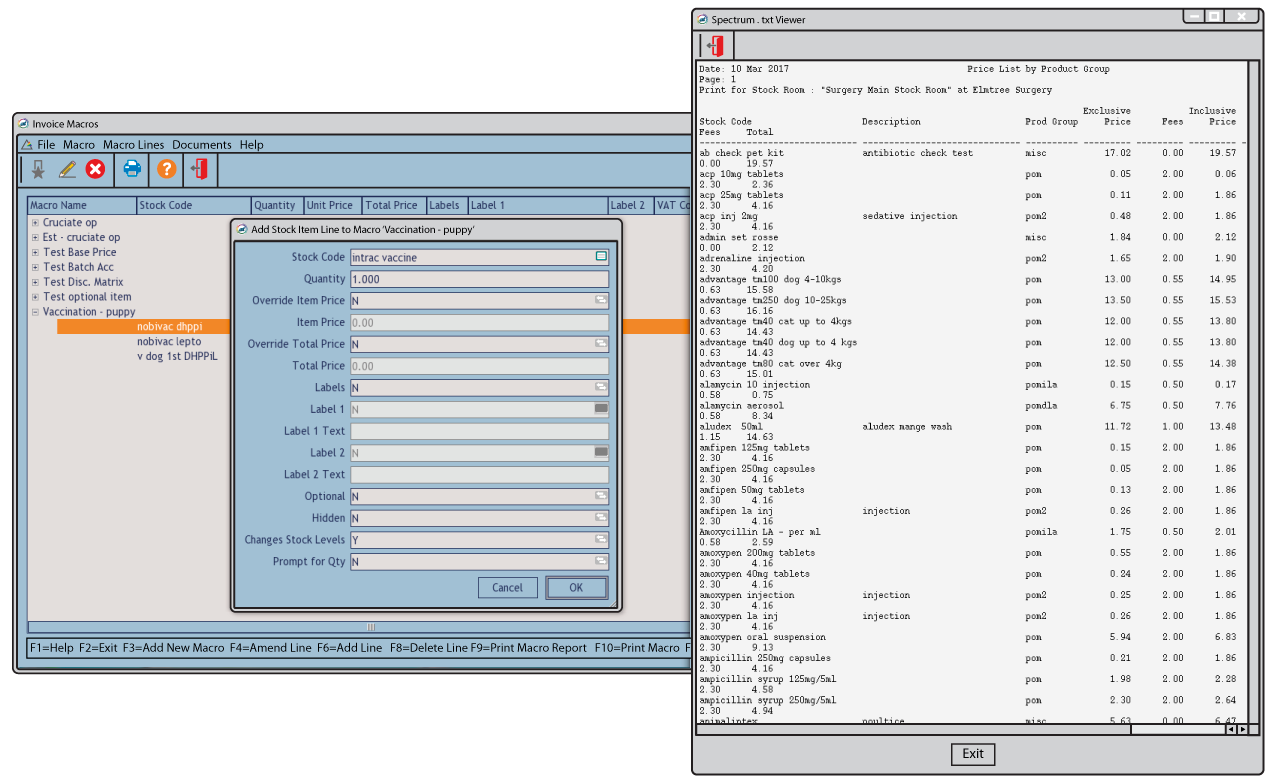 Product and header group reports offer overview statistics, whilst the Spectrum Reports module provides an additional 35 stock-related reports. Ultralink provides live reporting capabilities on all stock data and much more.
To gain a better understanding of Spectrum's full capabilities, AT Veterinary Systems are happy to arrange full software demonstrations.