Rota Manager is an effective and easy-to-use solution for planning, designing and managing customised staff rotas.
Recruitment research has indicated that one of the main reasons for staff leaving a job is to go in search of better hours or an improved rota.*
Manage your most valuable assets more efficiently by saving time and effort on the creation and management of staff rotas. Rota Manager can reduce the production time of rotas by several hours per month, and in turn reduce the demands on the time of those more senior members of staff.
Our innovative rota management system enables you to produce fair and accurate rotas, whereby flexible working and staff preferences can be accommodated; consequently, employees are more motivated, the risk of producing 'unfair' rotas is eliminated and staff retention levels are increased.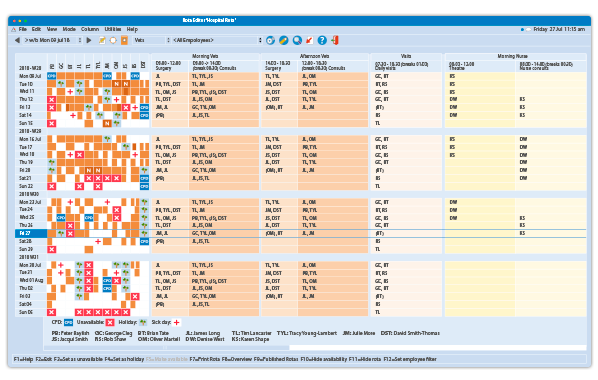 Similarly, employee information can be managed more effectively; days off, holidays taken, training completed, shifts worked and contracted hours, can be easily accessed and monitored.
Most importantly, Rota Manager ensures that your business is not over or understaffed and that skilled and management staff are present throughout the week. Staffing costs represent a significant proportion of a company's overall expenditure, therefore efficient deployment of staff is a great benefit to your business and its profitability.
Rota Manager is available as a cloud solution and in single or multi-user network configurations. Users can access the software from PC, Mac or Linux desktops, anywhere on their local network. Rota Manager is provided pre-installed, configured and ready to use.
When choosing Rota Manager, you will be supported at every stage of the integration process. Our team of account managers will provide comprehensive on-site training, our in-house engineers will provide a full hardware installation and our customer services team are on-hand to provide ongoing support 24/7.
*RIG Recruitment. 2010