The Spectrum Notes module is the most effective way to record clinical notes, providing an overview of all activity with quick links to case studies.
Clinical Notes stores your entire revision history so that all edited or deleted entries can be easily traced and viewed. Ready-made or customised templates allow structured notes to be added to animal clinical records. This is ideal for repeat procedures and best practice documents. Structured notes are pre-filled with information from
client records
, with entry fields for case-specific data. Each structured note displays a revision history, as well as details of the person who finalised the note and the date it was finalised. An unlimited number of the same note can be added to a client record.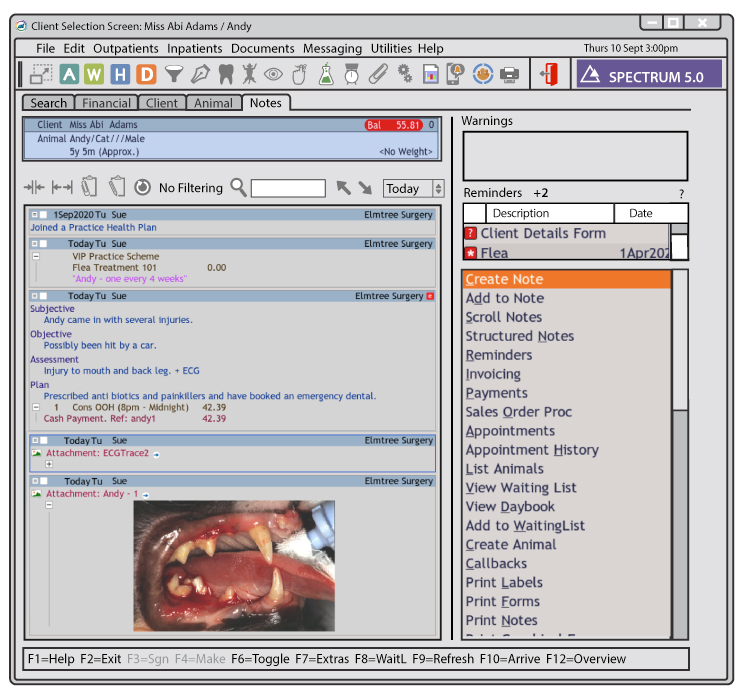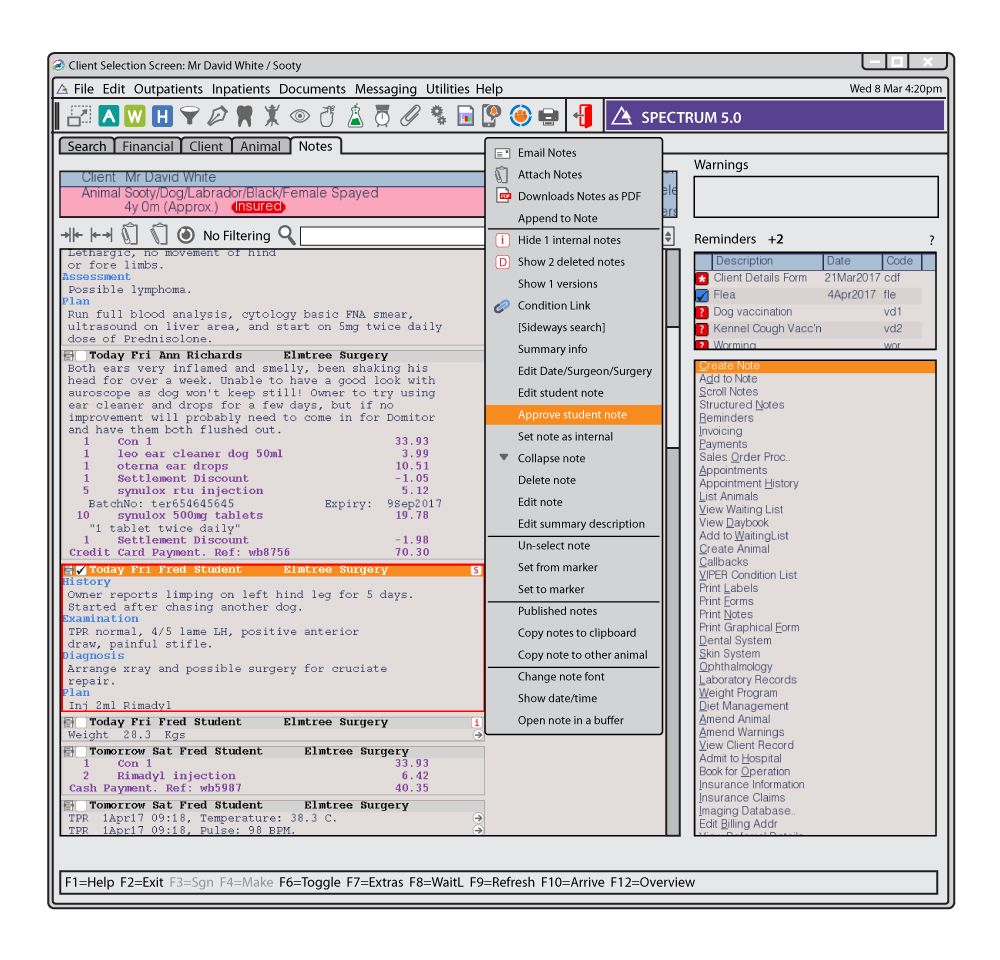 Spectrum offers a variety of custom templates to help standardise your practice clinical notes. These include:
SOAP: Subjective, Objective, Assessment and Plan
HEDP: History, Examination, Diagnosis and Plan
DART: Description, Assessment, Response and Treatment
These provide valuable reporting procedures for inexperienced vets, but free text entries can still be used. For university and training facilities, Student Notes can be activated. Student Notes uses visual indicators to highlight all clinical notes created by student users. These notes have to be approved by an experienced clinician and can be filtered within a client's notes. Note summaries clarify the notes entered by students, as well as notes that have been edited or approved.
Spectrum automatically adds relevant information to notes, including
financial
transactions,
laboratory reports
and
weight records
. Notes are searchable via text entries, surgeon names, drugs, batch numbers, dates, invoiced items,
case numbers
, branch surgeries, and
invoice
amounts. They can be filtered, edited, deleted, copied to other animals, copied to clipboard, printed and attached to a variety of media. Backdated notes can be created and inserted into the correct chronological order. The notes can also be attached with or without financial, contact and personal details. Private notes allow staff to create internal logs on specific clients. These notes can be concealed on client records and omitted from documents. These features allow staff to select and send the right information to
referral practices
, clients,
insurers
and other relevant parties.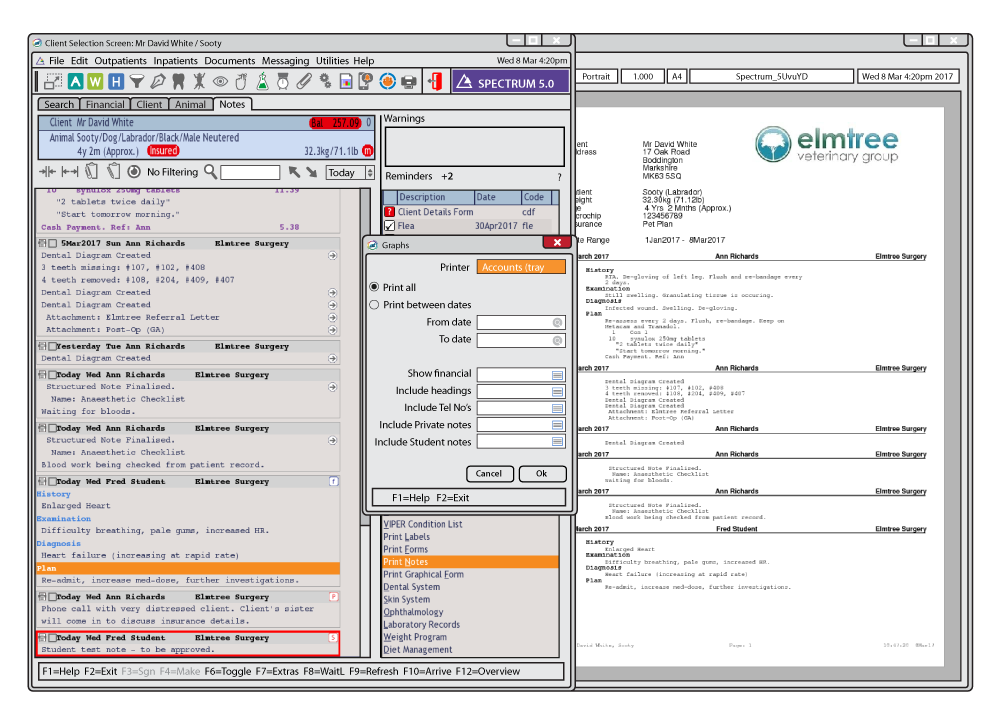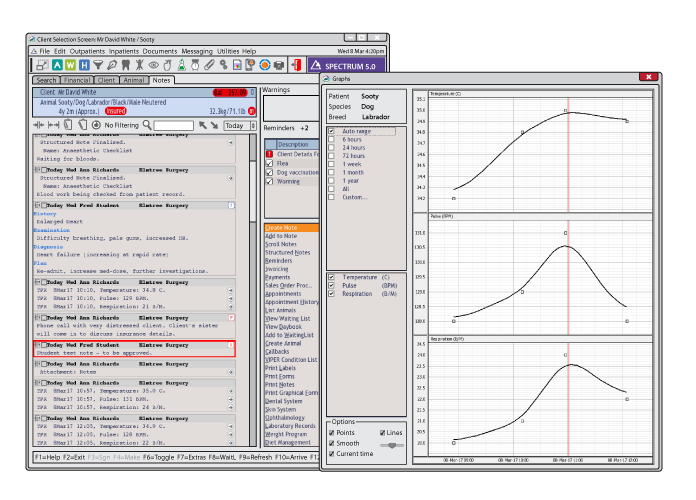 Repeat prescriptions can be set up, managed and withdrawn through the clinical notes summary. The Vital Signs module allows easy tracking of common health parameters, such as blood pressure, temperature and respiratory rate. The ergonomic interface allows quick data entry and customised parameter creation. High and low warnings and surgeon alerts can be set for each parameter. Data can be added to clinical notes and graphs are easily created, recorded and printed.